Memories serving the 4th Degree of the Knights of Columbus,
John Miles Assembly 2064 as Faithful Navigator
from 2014 to 2016.

On January 2020, I was suspended, without any warning, for 18 months by State Deputy Dale Hofer, since I have questioned the implementation and change of the Regalia to the new uniform.
Very sad, since I would celebrated just 2 months later my 25 anniversary as a 4th Degree Member of the Knights of Columbus.

Video by Sir Knight Allan Smith is self explanatory
Msgr. John Miles Assembly 2064,
Knights of Columbia British Columbia and Yukon.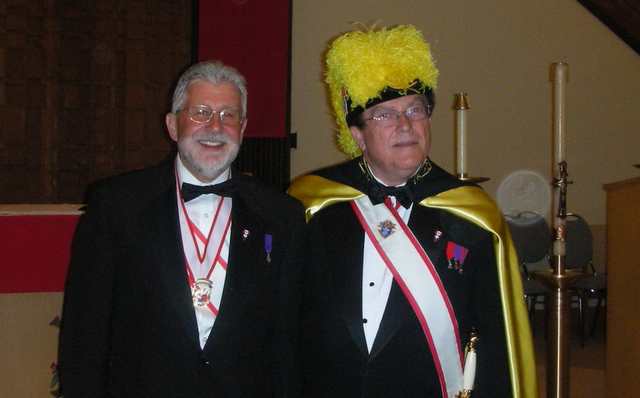 Msgr. John Miles Assembly 2064. Fraternal year 2014-2015 Faithful Navigator Sir Knight Guenter A. Rieger, Worthy Master Sir Knight Toni Pimentel.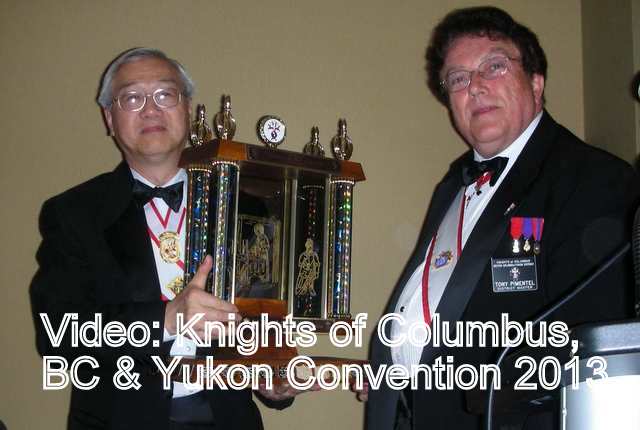 .
,
Videos.
Dear visitors.
"The Fourth Degree of the Knights of Columbus". I'm a member of the 4th Degree of the Knights of Columbus, Msgr. John Miles Assemby 2064, Vernon Brtish Columbia. Our Sir Knights are Brothers of KOFC Councils in Vernon, Coldstream, Armstrong, Salmon Arm and Revelstock, British Columbia, Canada.
With this page I would like to share with you the prinziples of the Fourth Degree.
"For most men who follow Jesus, there comes a time when duty extends beyond our own lives, beyond how we lead our families, and into how we serve our fellow man. That's what the Knights of Columbus is all about. The Patriotic Degree allows knights to take this one step further. Sir Knight" is more than a title. It's an honour."
Text below is a free copy of wikipedia. Please click on link of wikipedia to read full content. You are most welcome to visit the home page of the Knights of Columbus to get more information of the Knights of Columbus and the 4th Degree.
The Fourth Degree is the highest degree of the order. It is an extension of the third degree. Members of this degree are addressed as "Sir Knight". The primary purpose of the Fourth Degree is to foster the spirit of patriotism and to encourage active Catholic citizenship. Fewer than 18% of Knights join the Fourth Degree, which is optional; of a total 1,703,307 Knights there were 292,289 Fourth Degree Knights.
A Knight is eligible to join the Fourth Degree after six months from the date of his First Degree, providing he has completed the 2nd and 3rd degrees beforehand.
Knights of Columbus chapeau worn only by Fourth Degree Knights
Only Fourth Degree Knights may optionally purchase and wear the full regalia and join the Assembly's Color Corps. The Color Corps is the most visible arm of the Knights, as they are often seen in parades and other local events wearing their colorful regalia.
Official dress for the Color Corps is a black tuxedo, baldric, white gloves, cape and naval chapeau. In warm climates and during warm months a white dinner jacket may be worn, if done as a unit Baldrics are worn from the right shoulder to left hip and are color specific by nation.
In the United States, Panama and the Philippines, baldrics are red, white and blue. Red and white baldrics are used in Canada and Poland; red, white and green in Mexico; and blue and white in Guatemala. Service baldrics include a scabbard for a sword and are worn over the coat while social baldrics are worn under the coat. The colors on a Fourth Degree Knight's cape and chapeau denote the office he holds within the Degree.
Faithful Navigators and Past Faithful Navigators are permitted to carry a white handled silver sword. Masters and Vice Supreme Masters, as well as Former Masters and Former Vice Supreme Masters, are also denoted by their gold swords.
The need for a patriotic degree was first considered in 1886, and a special plea was made at the National Meeting of 1899. The first Fourth Degree exemplification followed in 1900 with 1,100 Knights participating at the Lenox Lyceum in New York City. Today there are more than 2,500 Assemblies.
Vivat Jesus
Faithful Navigator Guenter A. Rieger, Past GK St. James Council 4949