.
.
.
.
.
.
.
.
About Knights of Columbus. A Catholic fraternal organization founded in 1882 at St. Mary's Church in New Haven, Conn., the Knights of Columbus has 1.8 million members in the Americas, Europe and Asia. For 130 years it has provided... Click on picture to watch video, Supreme Knight Carl A. Anderson.
.
.
Father Michael J.McGivney,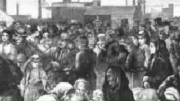 Founder of the Knights of Columbus.
.
.
.
A video depicting who

the Knights of Columbus are, and what they stand for and believe in. Thanks to the efforts of Father Michael J. McGivney, assistant pastor of St. Marys Church in New Haven and some of his parishioners, the Connecticut state legislature on March 29, 1882, officially chartered the Knights of ....
.
.
.
______________________________________________________________________________________